Young Indian Entrepreneur Shines at a Fundraiser Event in Naples, Italy
Read Time:
2 Minute, 42 Second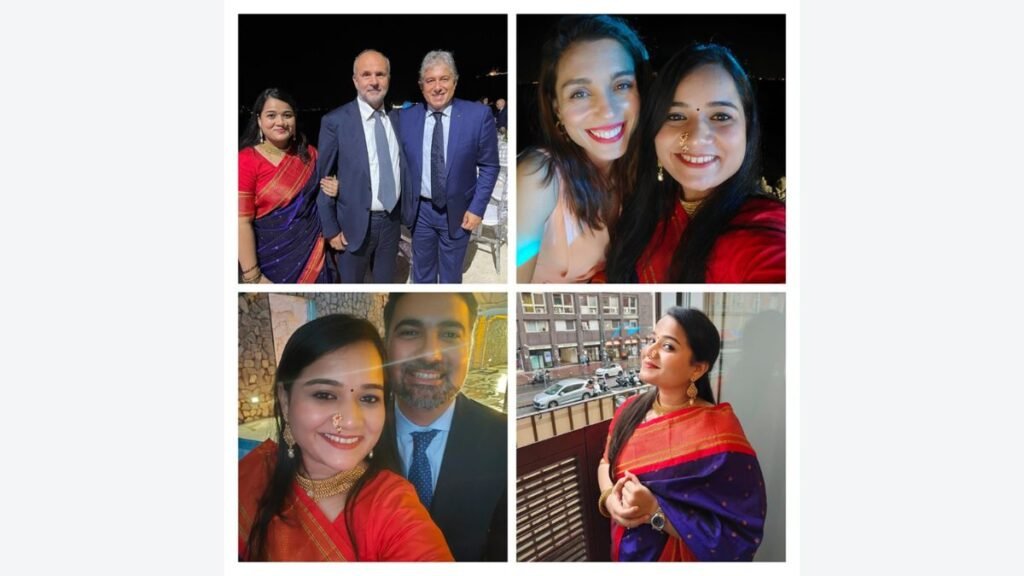 New Delhi (India), June 28: Le Axidie Resort, located on the renowned Amalfi coast of Naples, Italy, recently played host to an extraordinary event organized by Sbarro Health Research Organisation where Ms. Alisha Shinde, a talented and promising businesswoman and the president of Marketaa, captivated the audience with her presence and showcased the rich culture of India. The event witnessed Ms. Alisha's unwavering determination to represent India on a global platform.
At just 27 years old, Ms. Alisha Shinde has already established herself as one of India's most promising young entrepreneurs. Her visit to Italy presented a valuable opportunity for personal growth and the promotion of Indian culture overseas.
During the event, Ms. Alisha elegantly donned a traditional Paithani saree, embodying the essence of Maharashtra's vibrant culture, radiating grace and charm. Attendees were captivated by her attire, which beautifully represented the rich traditions of Maharashtra and showcased the diversity and splendour of Indian culture. By embracing her heritage, Ms. Alisha effectively became an ambassador for Maharashtra and an inspiration for aspiring entrepreneurs.
Ms. Alisha Shinde's encounter with Mr. Orazio Schillaci, the esteemed Italian Minister of Health, at the event added an extra layer of importance to her participation. During this meeting, they delved into discussions about potential collaborations, providing her with invaluable networking opportunities and fostering connections that could prove instrumental in her future endeavours.
Additionally, Ms. Alisha Shinde had the opportunity to meet Cristiana dell'Anna, a well-known actress, who received a well-deserved award during the event. Their gathering demonstrated the fusion of skill and commitment from various fields as they traded ideas and related their individual experiences. The value of collaboration and intercultural relationships in the fields of entrepreneurship and research was highlighted by this interaction.
Undoubtedly, the highlight of the event was the announcement that the Sbarro Health Research Organisation would establish its operations in Italy under the name SHRO Italia. This esteemed institute aims to significantly advance cancer research and therapy, instilling hope in millions of individuals afflicted by this deadly disease. The fundraiser event organized during the occasion successfully raised an astounding 400,000 Euros, a testament to the unwavering efforts and dedication of those involved. The event was organized and managed by the Vice President of the institute Mr. Giancarlo Arra.
The funds received will play a pivotal role in furthering the goals of the Sbarro Health Research Organisation. Founded in 1993 by Professor Antonio Giordano, the institute is currently based at Temple University in Philadelphia, Pennsylvania, USA. Its steadfast commitment to research and treatment will undoubtedly contribute to the development of groundbreaking cancer treatments, potentially saving countless lives.
Through her active participation in this event, Ms. Alisha Shinde not only showcased her entrepreneurial spirit but also demonstrated the impact young Indian business owners can have on the world. As the sole Indian woman in the room, her presence brought empowerment and diversity to the proceedings, inspiring others to reach for the stars and aim high.
If you have any objection to this press release content, kindly contact pr.error.rectification[at]gmail.com to notify us. We will respond and rectify the situation in the next 24 hours.