Dr Karan R Rawat – Best GASTROENTEROLOGIST in Agra 
Read Time:
3 Minute, 11 Second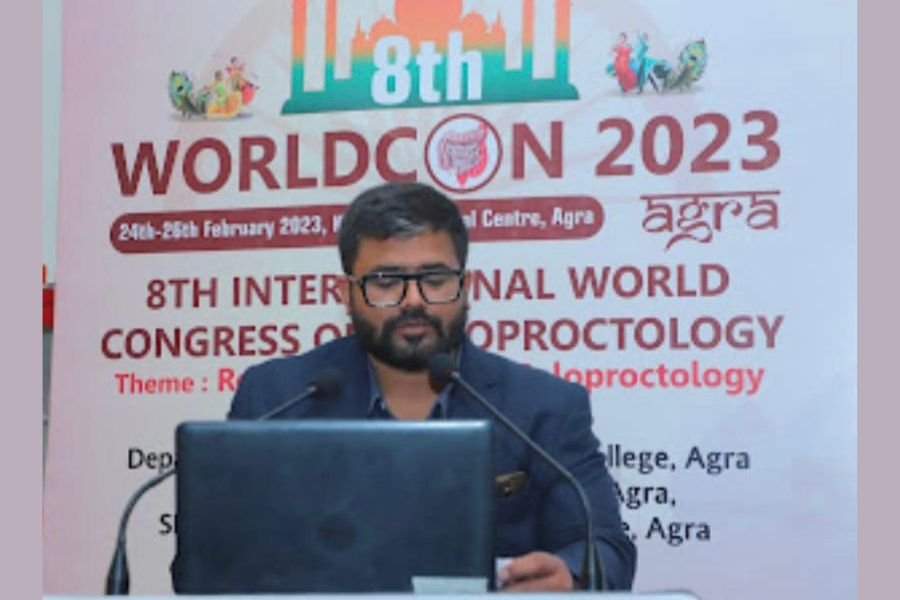 New Delhi (India), July 3: Dr Karan R. Rawat is a highly accomplished and respected gastroenterologist and liver specialist based in Agra. With over 15 years of experience in the field, he has successfully treated over 20,000 patients for various gastroenterological and liver-related conditions. Dr. Rawat is known for his expertise in the stomach, gall bladder, liver, hernia, intestines, and piles treatments. His commitment to serving the community is evident through his free consultations and surgeries for underprivileged individuals. This article explores the remarkable achievements and contributions of Dr. Karan R. Rawat in the field of gastroenterology and surgery.
Exceptional Expertise and Qualifications:
Dr. Karan R. Rawat is a highly skilled professional with extensive qualifications in the field of gastroenterology and surgery. He has obtained more than 10 prestigious fellowships, which demonstrate his commitment to continuous learning and professional development. These fellowships have provided him with specialized training and knowledge in various aspects of gastroenterology and surgery, ensuring that he stays updated with the latest advancements in the field.
Dedication to Patient Care:
One of the key attributes that set Dr. Karan R. Rawat apart is his compassionate and patient-centred approach to healthcare. He is renowned for his humility, politeness, and the ability to listen attentively to his patients. Dr. Rawat understands the importance of establishing a strong doctor-patient relationship, and his empathetic nature puts his patients at ease. He takes the time to thoroughly understand their concerns, provide accurate diagnoses, and explain treatment options in a clear and understandable manner.
Providing Accessible Healthcare:
Dr. Karan R. Rawat firmly believes in the principle of providing healthcare to all, regardless of their financial status. He actively supports the underprivileged by offering free consultations and surgeries. This selfless commitment to helping the less fortunate has positively impacted numerous lives in the community. Dr. Rawat's dedication to social welfare is truly commendable and embodies the essence of a compassionate medical professional.
Safe Gastroenterology and Surgery Center:
Dr. Karan R. Rawat operates from a specialized hospital that focuses on gastroenterology and surgery. The centre is equipped with state-of-the-art facilities and adheres to strict safety protocols, ensuring the highest standards of patient care. Dr. Rawat and his team are committed to maintaining a safe and hygienic environment for all patients. Regular camps are organized to reach out to individuals who may require gastroenterological assessments, raising awareness about preventive measures and early detection.
Recognitions and Awards:
Dr. Karan R. Rawat's contributions to the field of gastroenterology have been widely recognized and appreciated. In 2022, he received the prestigious "Vishwa Gaurav Samman" for his outstanding achievements and dedication to patient care. Additionally, he was honored with the "Best Paper in Gastro Surgery" award in 2021, highlighting his research contributions and innovative approaches to surgical techniques. Furthermore, in 2020, Dr. Rawat became the youngest operating faculty member in India, showcasing his exceptional skills and expertise.
Conclusion:
Dr. Karan R. Rawat, a distinguished gastroenterologist and liver specialist in Agra, has had a significant impact on the lives of numerous patients. With his extensive experience, specialized training, and compassionate approach to healthcare, he has earned the respect and trust of both patients and peers. Dr. Rawat's commitment to serving the community, particularly the underprivileged, through free consultations and surgeries exemplifies his dedication to making healthcare accessible to all. His contributions to the field of gastroenterology and surgery have been widely acknowledged, and he continues to make a significant difference in the lives of his patients.
Safe Gastro and surgery centre, church road, Agra
www.gastroenterologistinagra.com
If you have any objection to this press release content, kindly contact pr.error.rectification[at]gmail.com to notify us. We will respond and rectify the situation in the next 24 hours.