Shilpa Bhatt Bahuguna Launches Sunbeam Productions, Paving the Way for a Thriving Music Industry in Uttarakhand
Read Time:
2 Minute, 57 Second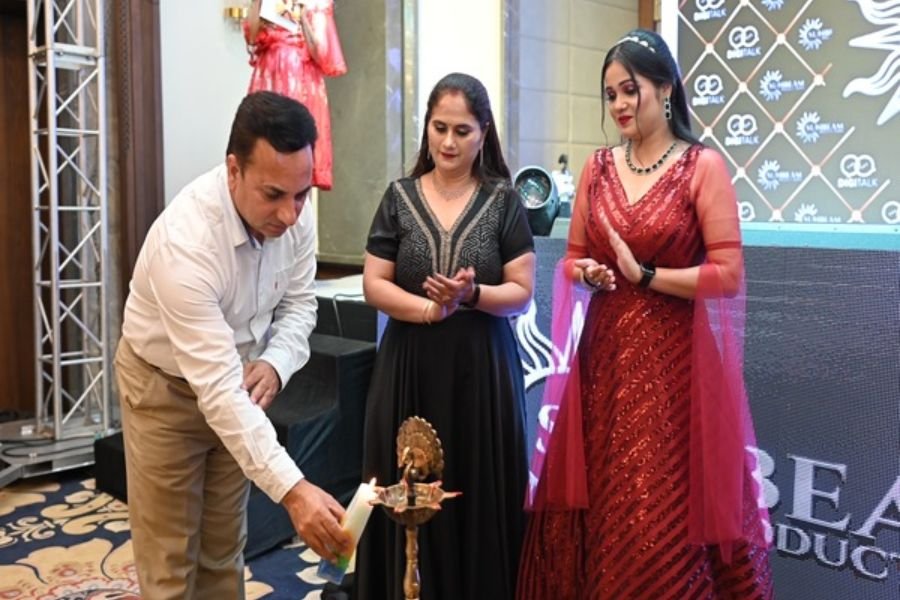 Shilpa Bhatt Bahuguna revolutionizes Uttarakhand's music industry with Sunbeam Productions
New Delhi (India), July 11: In a momentous event held at the Hyatt Centric on June 30, 2023, Shilpa Bhatt Bahuguna, a dynamic young entrepreneur, unveiled her latest venture, Sunbeam Productions. This pioneering initiative is set to revolutionize the music industry in Uttarakhand and create an environment that fosters local talent while promoting the state's rich cultural heritage.
At the launch event, attendees were captivated by Shilpa's visionary speeches, which outlined her plans and ambitions for Sunbeam Productions. The gathering included prominent figures from the music industry, local business owners, government officials, and esteemed members of the press. The overwhelming support and enthusiasm demonstrated by the attendees served as a testament to the potential impact Sunbeam Productions can have on Uttarakhand's cultural and economic landscape.
The core team behind Sunbeam Productions comprises Founder Shilpa Bhatt Bahuguna, co-partner Divya Singh Mehra, and Production Head Akshay Purohit. Together, they share a common vision of fostering local talent, organizing unique musical experiences, and embracing contemporary music trends while preserving Uttarakhand's cultural roots. The company's commitment to creating a vibrant and thriving music ecosystem in Uttarakhand is driven by its ambition to become a catalyst for change in the industry.
Sunbeam Productions aims to provide a platform for aspiring musicians, offering them the necessary resources, guidance, and exposure to flourish in the competitive music industry. By cultivating an entrepreneurial spirit, the venture encourages individuals to explore their potential and realize their dreams. This holistic approach, combining musical and business acumen, will create a sustainable ecosystem that empowers artists and uplifts the local economy.
Shilpa Bhatt Bahuguna's journey as an entrepreneur began with the establishment of a successful pizza outlet in 2016, which has since grown into a chain of five outlets across Dehradun. Her exceptional leadership skills and innovative ideas have garnered recognition, earning her an award from the former Chief Minister in 2019 for her substantial contributions to the local economy and job creation. With her newfound passion for entrepreneurship, Shilpa decided to combine her love for music and business acumen to embark on a transformative journey in the music industry.
Shilpa Bhatt Bahuguna and Divya Singh Mehra extend an invitation to aspiring musicians, entrepreneurs, and stakeholders from all sectors to join hands in shaping a brighter future for Uttarakhand's Music Industry. With their shared passion, expertise, and commitment, they are poised to leave an indelible mark on the music and entrepreneurial scene of Uttarakhand and beyond.
The launch of Sunbeam Productions heralds a new era for the music industry in Uttarakhand. As the company sets its sights on shaping the future of music in the state, its collaboration with local artists and stakeholders will not only empower the creative community but also elevate Uttarakhand's reputation as a center for artistic expression and innovation.
The journey of Sunbeam Productions has just begun, and music enthusiasts and entrepreneurs alike eagerly await the transformative impact this initiative will have on the cultural and economic fabric of Uttarakhand. With Shilpa Bhatt Bahuguna at the helm, the future of the music industry in the state looks brighter than ever before.
For more information, please visit: https://instagram.com/shilpa_active?igshid=MzRlODBiNWFlZA==
If you have any objection to this press release content, kindly contact pr.error.rectification[at]gmail.com to notify us. We will respond and rectify the situation in the next 24 hours.