Mrs. India Inc Season 4: An Unprecedented Journey Like Never Before at Cinnamon Grand Colombo
Read Time:
4 Minute, 20 Second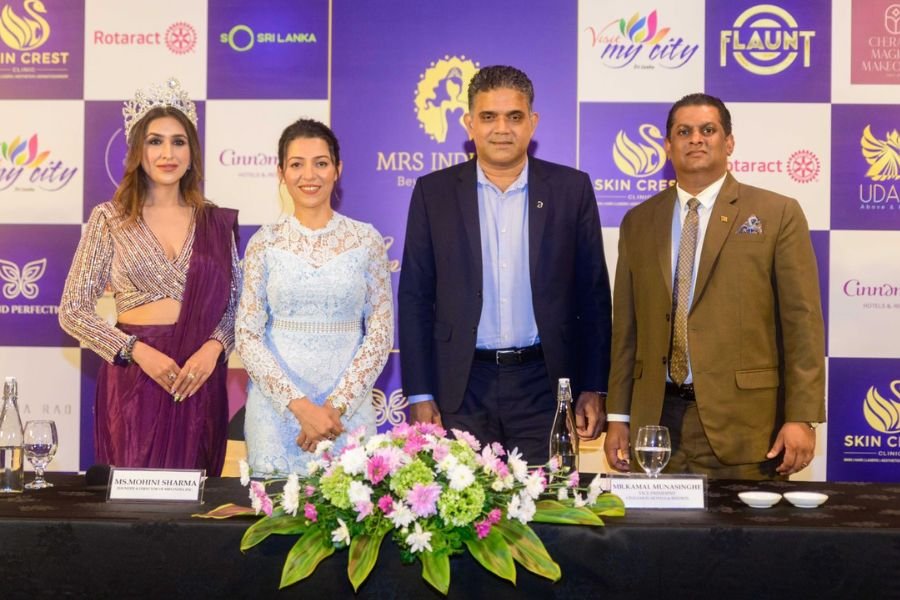 Colombo (Sri Lanka) [India], July 13: Mrs. India Inc, the esteemed beauty pageant celebrating the essence of womanhood, is all set to unveil its highly anticipated Season 4. This year promises to be a truly remarkable and international affair, as the grand finale will take place in the captivating island nation of Sri Lanka. It will be the first time in the history of Mrs. India Inc that the prestigious event will be held on an international stage.
With an impressive participation of 75 contestants from various parts of India and across the globe, Season 4 of Mrs. India Inc is expected to be the most diverse and enthralling edition yet. The pageant has attracted talented individuals from different countries, making it a truly global celebration of beauty, grace, and cultural diversity.
The highly anticipated finale week of Mrs. India Inc, Season 4 is set to take place from July 13th to July 19th, offering a captivating schedule filled with exhilarating events and experiences. The week-long extravaganza will commence with a grand opening ceremony, where the contestants will be introduced to the audience in a stunning display of grace and elegance. Following the ceremony, a series of rigorous training sessions, workshops, and rehearsals will be conducted to polish the contestants' skills and enhance their confidence. Throughout the week, the contestants will have the privilege of exploring the picturesque beauty of Sri Lanka, immersing themselves in the vibrant local culture and creating cherished memories.
The grand finale of Mrs. India Inc Season 4 will be held at the iconic Nelum Pokuna, a world-class venue known for hosting magnificent events. The contestants will have the privilege of staying at the luxurious Cinnamon Grand Colombo, one of the finest hospitality destinations of Sri Lanka, ensuring their utmost comfort and convenience throughout the event.
To ensure a fair and unbiased selection, a distinguished panel of judges has been assembled, consisting of renowned personalities from various domains. The esteemed judges include Malaika Arora, Dino Morea, S. Sreesanth, Cherag Bambbot and Bhawna Rao. Adding an extra touch of glamour and entertainment, the renowned Sri Lankan performer Yohani will grace the stage with a special performance that is sure to captivate the audience.
Prior to the main event, Sri Lankans have the opportunity of meeting with the elegant finalists at a Gala Party, which will be held on Monday, 17th July 2023, at the Waterside Marquee, Cinnamon Lakeside Colombo. Tickets priced at 12,500 LKR are currently on sale at the special events desks at both Cinnamon Grand Colombo and Cinnamon Lakeside Colombo. Cricket fans will also have the opportunity of meeting former Indian cap Sreesanth at this event.
Bollywood fans in Sri Lanka will surely be in for another treat when the After-Party to the Grand Finale takes place on 19th July at the Breeze Bar, Cinnamon Grand Colombo. Malaika and Dino are both tipped to make special appearances at this celebration along with the newly crowned beauties. Tickets priced at 15,000 LKR for this event are also available at events desks at both Cinnamon properties.
Mrs. India Inc Season 4 has partnered with several esteemed organizations to create an unparalleled experience for its participants and attendees. The luxury hospitality partners, Cinnamon Hotels and Resorts, will ensure an unforgettable stay for the contestants. The travel alliance partner- Visit my city, will contribute to making the journey in Sri Lanka seamless and delightful. The luxury couture partner, Bhawna Rao, will bring forth her exceptional designs to accentuate the beauty and elegance of the contestants. Rotaract District 3220 joins as the youth partner, emphasizing the importance of empowerment and social responsibility.
Mohini Sharma, the National Director of Mrs. India Inc, stated, "We are thrilled to announce the upcoming Season 4 of Mrs. India Inc, which promises to be an extraordinary journey like never before. Taking our pageant to the international stage in Sri Lanka is a momentous step for us, showcasing the talent and beauty of women from around the world. We look forward to a truly diverse and captivating event, Mrs. India Inc Season 4 will undoubtedly be a celebration of elegance, empowerment, and global unity between India & Sri Lanka".
Echoing similar sentiments, Area Vice President, Cinnamon Hotels & Resorts Colombo, Kamal Munasinghe, noted, "Sri Lanka is at a point where our tourism industry is set to broaden its horizons and step into new avenues. One of the key areas is presenting our island nation as a destination for international events in the calibre of beauty pageants, large outdoor and indoor musical and sporting events, and gatherings of world bodies. Cinnamon is indeed proud to be associated with the Mrs.India Inc. brand as they themselves take the brand global and venture out of the sub-Continent."
Mrs. India Inc Season 4 promises to be a spectacular celebration of beauty, talent, and diversity, bringing together participants from around the world. This prestigious event will undoubtedly leave an indelible mark on the global pageant landscape.
If you have any objection to this press release content, kindly contact pr.error.rectification[at]gmail.com to notify us. We will respond and rectify the situation in the next 24 hours.