Dipesh Grewal: Empowering Haryana's Future as the Youngest INLD Political Member
Read Time:
2 Minute, 57 Second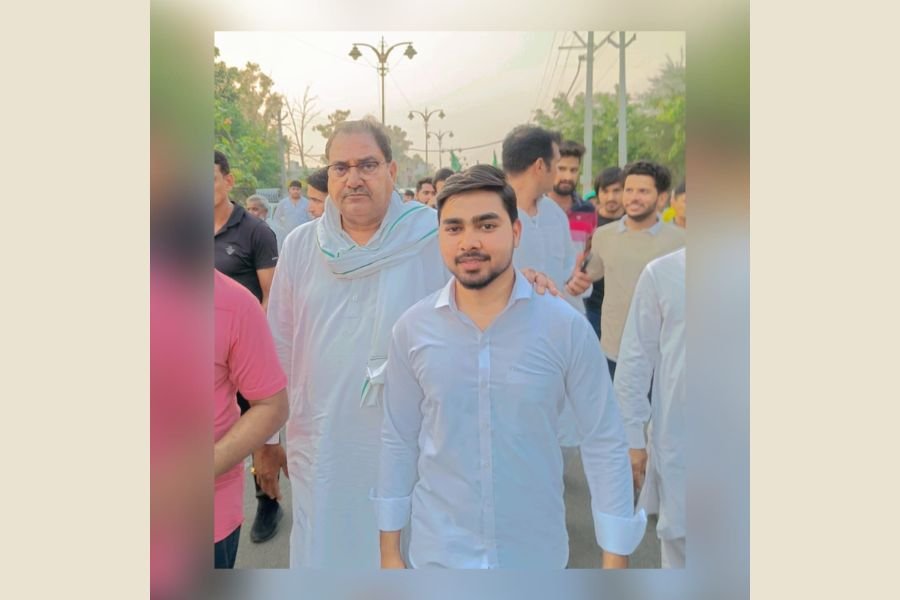 Chandigarh (India), July 2023: Dipesh Grewal, a young and dynamic political figure, has risen to prominence as the youngest member of the Indian National Lokdal (INLD) party in Haryana. In this article, we delve into Dipesh Grewal's inspiring journey, highlighting his active participation in the ongoing Haryana Parivartan Yatra alongside influential leaders such as Abhay Singh Chautala Ji and Sunaina Chautala Ji. Dipesh Grewal's dedication has not only earned him a place as a cherished member of the Chautala family but has also sparked a Twitter trend, with the campaign #haryana_parivartan_yatra soaring to the number one spot in India.
He walked 20 km each day for many days. With Abhay Singh Ji Chautala, Sunaina Chautala, Jaideep Chautala and Karan Chautala.
By following the Ex-Chief Minister of Haryana, Omparkash Chautala's instructions. Also, he's a great fan of the Ex-Vice Prime Minister of India's late Ch Devilal Ji and was inspired by his policies for the poor and farmers. And he sees Ch Devilal Ji's. Face In Abhay Singh Chautala Ji.
At a remarkably young age, Dipesh Grewal has made a name for himself in the realm of Haryana politics as the youngest political member of the Indian National Lokdal (INLD) party. Despite his youth, Dipesh has demonstrated exceptional leadership skills and an unwavering commitment to effecting positive change in Haryana's political landscape. His association with the INLD has provided him with opportunities to contribute significantly and has earned him the respect and admiration of party members and leaders.
Dipesh Grewal's notable achievements include his active involvement in the ongoing Haryana Parivartan Yatra. This momentous yatra, led by prominent leaders Abhay Singh Chautala Ji and Sunaina Chautala Ji, has become the longest paidal yatra undertaken by any political leader in Haryana. By actively participating in this historic event, Dipesh Grewal showcases his unwavering dedication to connecting with the people of Haryana, understanding their concerns, and championing their aspirations.
The Haryana Parivartan Yatra is a testament to Dipesh Grewal's commitment to grassroots engagement. The yatra involves visiting various towns, villages, and constituencies across Haryana, allowing him to interact directly with the citizens, listen to their grievances, and present the vision of INLD for a better future. Dipesh Grewal's enthusiastic participation resonates with the youth of Haryana and positions him as a relatable and accessible leader.
Recognizing the power of social media in today's digital age, Dipesh Grewal has effectively harnessed its potential to amplify the reach of the Haryana Parivartan Yatra. Through his astute leadership, he mobilized his team and orchestrated a successful Twitter campaign, making #haryana_parivartan_yatra the number one trending topic in India. This achievement not only demonstrates Dipesh Grewal's proficiency in leveraging digital platforms but also highlights his ability to engage and connect with a wider audience, igniting conversations about the urgent need for positive change in Haryana.
Dipesh Grewal's dedication and impactful work have not gone unnoticed within the INLD party. INLD leader Abhay Singh Singh himself follows Dipesh Grewal on Twitter, acknowledging his influence and recognizing his contributions. This endorsement from a senior party member reflects Dipesh Grewal's capabilities, vision, and the trust he has garnered among his peers.
If you have any objection to this press release content, kindly contact pr.error.rectification[at]gmail.com to notify us. We will respond and rectify the situation in the next 24 hours.