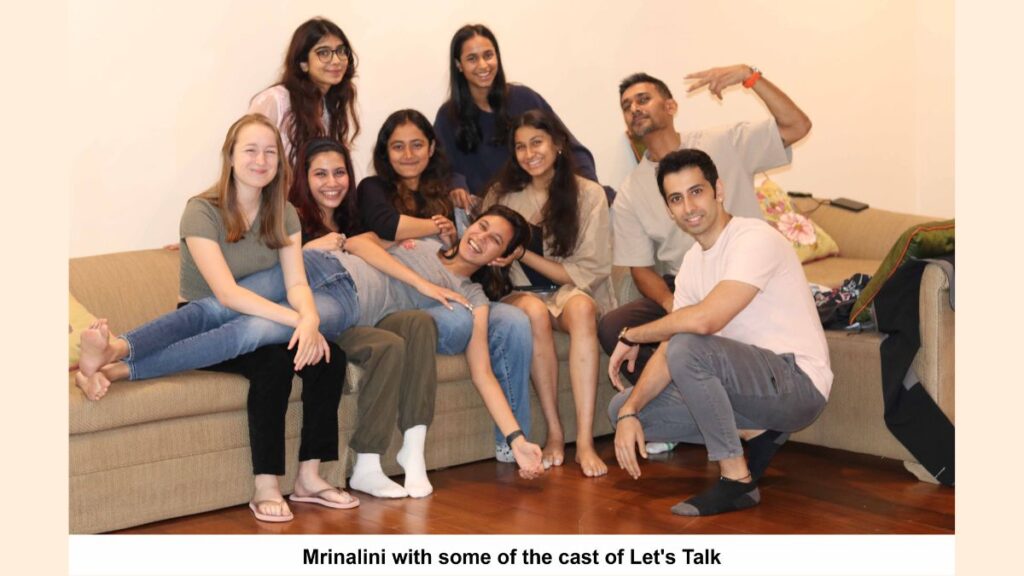 "Let's Talk" – A Jukebox Musical Strikes a Chord in the Conversation on Mental Health
Read Time:
5 Minute, 51 Second
Mrinalini Sekhsaria Somani presents Let's Talk in aid of Salaam Bombay Foundation
Mumbai (Maharashtra) [India], August 10: Opening at India's premier cultural centre, the NCPA, on August 16 and 17, 2023, 22-year-old Mrinalini Sekhsaria Somani from Vassar College, New York, United States, presents Let's Talk in aid of Salaam Bombay Foundation. Co-directed by Mrinalini with her younger sister Vaidehi, Let's Talk is a jukebox musical, theatrical production with popular songs set in a new context within an original script written by Mrinalini. The show will discuss mental health and therapy while following an American Therapist who has been practicing in India as she gets ready to move back to the States. It consists of an international cast, and the dancers are alums of the Salaam Bombay Foundation.
Mrinalini Sekhsaria Somani is no stranger to the world of music. She is the brainchild behind WE – a concert that she had designed when still in school to help the at-risk children from the urban slums of Mumbai to showcase their talent to the world. At the WE Concert, these resource-challenged kids could share the same stage and equal opportunities as their privileged counterparts. The WE Concert was inspired by Mrinalini's voluntary stint at Salaam Bombay Foundation. Through Let's Talk, she continues her fund-raising efforts for the underprivileged students enrolled at Salaam Bombay Foundation.
Mrinalini's sister, 16-year-old Vaidehi Sekhsaria Somani, is a student of Sherborne Girls' School (UK) and has always had a passion for dance and theatre. During her summer vacations in India, she would accompany her elder sister, Mrinalini, to the WE Concert to perform alongside the students from Salaam Bombay Foundation. Though coming from different worlds, they formed a bond through their collective love and passion for the arts.
Mrinalini Sekhsaria Somani says, "Let's Talk is a production is very close to my heart as it is something I can truly call mine after working on multiple plays and musicals at Vassar, New York. My passion for music began at a very young age. When I went on the attend Vassar, it led me to discover my love for musical theatre. Now, I am following my passion by pursuing a Masters degree in producing musical theatre at Goldsmiths in the UK. It's amazing how life can take unexpected turns and lead you to where you're truly meant to be.
I have always felt that there is a gap in Mumbai when it comes to musical theatre. There just isn't enough done, and it hasn't been explored in its truest form. Let's Talk will be completely live, and through this production, I hope to showcase the immense talent and potential of our city. We can reach the same level of excellence as London and NYC, and this show will prove it."
She adds, "Working on Let's Talk has been an incredible experience for me and Vaidehi. The show has an international cast, and I am absolutely thrilled to have the opportunity to work with them. Some of these are my friends with whom I have worked during WE. And, of course, the students from Salaam Bombay Foundation who I have grown up with."
Rutuja Sawant, a student of the Academy of the Arts at Salaam Bombay Foundation and fellow Let's Talk performer, expressed her excitement and shared, "I never thought I would have the opportunity to dance on such a big stage. I thought my passion for dance would just be a dream. But now, through Let's Talk, I can show the world what I am capable of. I am so grateful for this chance, and I'll make sure to give it my all."
With the musical score directed by the exceptionally talented Yohan Marshall, Let's Talk promises to be a powerful and engaging experience that will leave audiences spellbound. The production will feature a talented cast of performers, including some who have taken part in the WE Concert. Headlining the show are professional singers with impressive portfolios. The show stars the multi-faceted Talia Mayo, a 20-year-old student at Vassar College – New York, in the role of the therapist, and Kelly D'lima as her assistant, a 23-year-old singer and dubbing artist. The talented cast includes Shriya Rao, a 17-year-old professional musician, dancer, and actress with an extensive repertoire; Praveer Barot, a versatile artist who has successfully transitioned from an RJ with Radio Mirchi to the world of singing and acting and Rayaan Khatib, a Purdue University graduate with a minor in Theatre and co-producer of Micro Theatre. Playing the role of patients are also Anoushka Sivasankar, a 22-year-old musician, songwriter, composer, and producer who has worked with Bollywood greats like Jatin-Lalit, Kimaya Mehta, a student at Smith College in the USA who is pursuing a degree in Liberal Arts; Aneesha Karwanyun, a 19-year-old student at the prestigious Berkley College of Music and has performed at Harvard; and Shloka Subramaniam, a 20-year-old student at Colgate University, New York.
About Salaam Bombay Foundation's Academy of the Arts:
A CHILD IN SCHOOL HAS A FUTURE
Students from Salaam Bombay Foundation are typically between the ages of 11 to 17, live in Mumbai's overcrowded slums, have multiple responsibilities and live a highly pressured, stressful childhood. They often find themselves forced out of school as soon as they are deemed capable of contributing to their meagre family incomes. Most become trapped in unskilled, low-paying jobs with few prospects for growth. This also deters their ability to stay in school, complete their education and contribute to the organised workforce.
Given these ground realities, The Salaam Bombay Academy of the Arts is a refuge for children whose lives are bereft of opportunities and facilities, creative spaces and personal attention. The Academy addresses the lack of life skills by bringing world-class training in dance, music and theatre to children in government schools. It plays a pivotal role in identifying latent talent and giving underprivileged adolescents the opportunity to pursue sustainable careers in the creative fields.
Having trained over 9000 children in the Arts, Salaam Bombay Foundation is an NGO that helps the most vulnerable of India's children stay in school. Our initiatives give them something they rarely have – hope. Research shows that 9 out of 10 children enrolled with the Salaam Bombay Foundation stay in school.
If you have any objection to this press release content, kindly contact pr.error.rectification[at]gmail.com to notify us. We will respond and rectify the situation in the next 24 hours.