Panch Kriti Movie Brings Single Screen Cinemas Back in action with Unique Marketing and Cultural Richness
Read Time:
2 Minute, 18 Second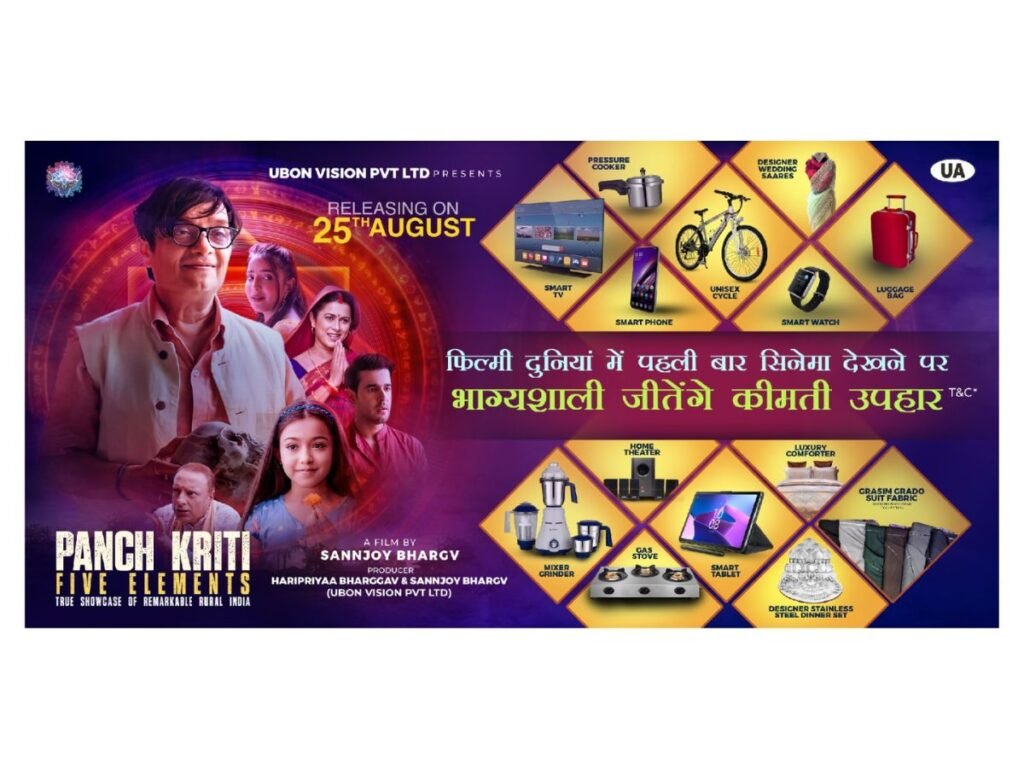 New Delhi (India), August 29: Ubon Vision Pvt Ltd's latest cinematic venture, "Panch Kriti: Five Elements", which hit the screens on August 25th, has taken the Indian cinema landscape by storm. This captivating film has not only enchanted audiences with its rich portrayal of rural Indian culture but has also redefined the way films are marketed and distributed. Drawing packed houses in single-screen theatres across Uttar Pradesh, Bihar, Jharkhand, Chhattisgarh, and Uttarakhand, the movie's strategic marketing approach and exceptional content have sparked a new wave of excitement.
"Panch Kriti: Five Elements" sets itself apart by blending compelling storytelling with an innovative marketing and distribution strategy. The film's narrative brilliance is matched by a unique lucky draw system featuring a range of valuable prizes that resonate with practicality and aspiration. Not only do viewers have the opportunity to immerse themselves in the cinematic celebration of India's rural heritage, but they also stand a chance to win coveted prizes, such as TVs, Smart Phones, Tablets, Smart Watches, Cycles, Designer Sarees, Mixer Grinders, Irons, Gas Burners, and Home Theaters, at every screening.
What's truly remarkable about this strategy is its dual purpose: drawing attention to high-quality cinema and elevating the cinematic experience for both urban and rural audiences. Through this approach, Ubon Vision Pvt Ltd. is creating a new avenue for outstanding talent and creativity to flourish beyond the usual reliance on star-studded casts and extensive marketing budgets.
The Ubon Vision Pvt Ltd. team's collaboration with distributors, theatre owners, product manufacturers, and the audience itself is a testament to their commitment to rejuvenating single-screen cinemas in rural India. This innovative approach not only enriches the cinematic landscape but also establishes a precedent that could inspire a global movement within the industry.
As the film continues to captivate the hearts and minds of audiences across the nation, *"Panch Kriti: Five Elements"* stands as a glowing example of how creative storytelling, innovative marketing, and a commitment to enriching cultural experiences can come together to create something truly exceptional.
For those who haven't yet witnessed the magic of "Panch Kriti: Five Elements", the film is currently running in cinemas nationwide, promising not only an immersive cinematic journey but also the opportunity to win valuable prizes that add to the enchantment. The movie's blend of cultural richness and modern marketing innovation cements its place as a milestone in Indian cinema's evolution.
If you have any objection to this press release content, kindly contact pr.error.rectification@gmail.com to notify us. We will respond and rectify the situation in the next 24 hours.