Celebrating Excellence: Shri. Mahatma Gandhi Rashtriya Abhiman Puraskar 2023
Read Time:
4 Minute, 19 Second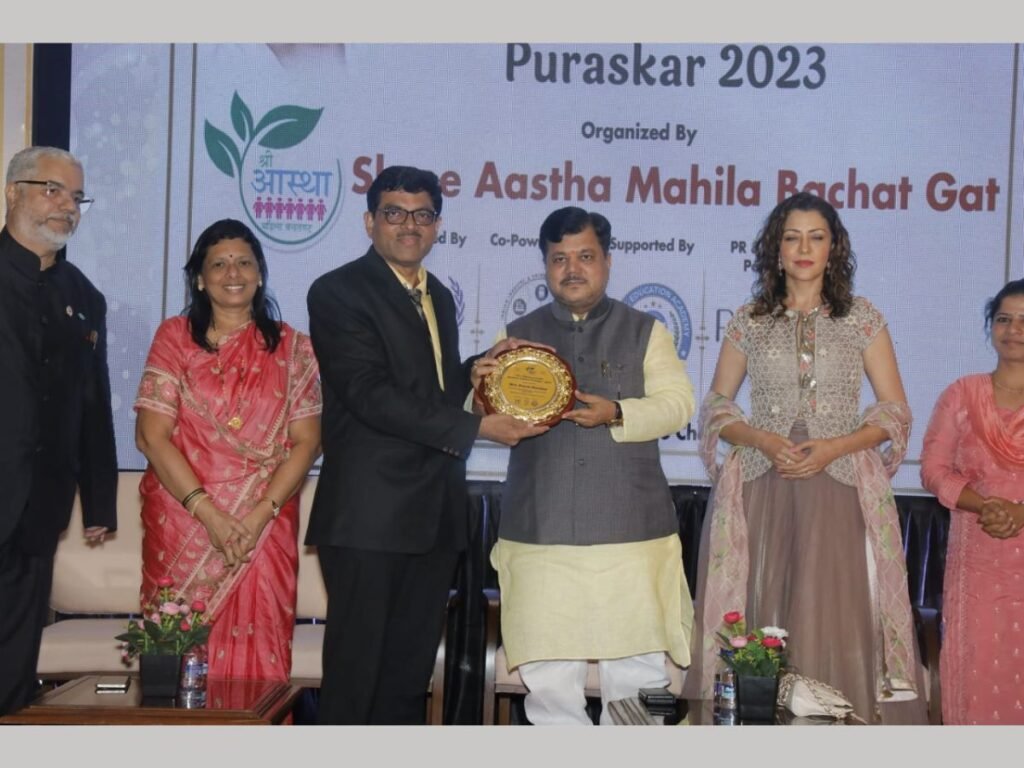 New Delhi (India), August 31: An evening of grandeur and distinction unfolded on August 9, 2023, at the esteemed Yashwantrao Chavan Pratishthan. The occasion was the highly anticipated Shri. Mahatma Gandhi Rashtriya Abhiman Puraskar ceremony, a remarkable event dedicated to honouring individuals whose contributions have left an indelible mark on society.
The event was graced by the esteemed chief guests were Shri. Rahul Narwekar, Speaker of the Maharashtra Legislative Assembly, and Smt. Aditi Sunil Tatkare, Minister of Women & Child Development, Government of Maharashtra. Shri. Mangal Prabhat Lodha, Cabinet Minister Govt. of Maharashtra, along with Shri. Atul Save, Cabinet Minister – Govt. of Maharashtra, Shri. Chandrashekhar Bawankule, Member of the Maharashtra Legislative Council, Manju Mangal Prabhat Lodha, Chairperson of the Lodha Foundation, and Shri. Quaiser Khalid, Inspector General of Police (Pune).
The event was further adorned by the attendance of Shri. Pravin Darekar, a Member of the Legislative Council, Vidhan Parishad, Maharashtra, along with the elegance of Dr. Aditi Govitrikar a distinguished Indian actress.
The guest list also included an array of prominent attendees who added to the event's star-studded ambiance. Notable among these were Dr. Subhash Dalvi, honoured for his contribution to behaviour change communication towards solid waste management, and Chander Devidas Purswani, the President of PMC Depositors Forum (REGD). Shri. Nitin Shivram Dalvi, Deputy Secretary to the Hon'ble Chief Minister, was another notable presence, among many others.
However, the heart of the evening lay in the recognition of exceptional individuals whose endeavours have significantly impacted society. The Shri. Mahatma Gandhi Rashtriya Abhiman Puraskar was bestowed upon these outstanding achievers as a testament to their dedication and impact.
The awardees of this prestigious honour included a diverse array of individuals from various fields, each with their unique contributions.
The recipients of the esteemed Shri. Mahatma Gandhi Rashtriya Abhiman Puraskar encompassed a diverse spectrum of outstanding individuals, including Shri. Yashwantrao Mane – Dy. Collector, Maharashtra, Dr. Charan Lanjekar – Prof. Cardiology, Seth GSMS & KEM Hospital Mumbai, Dr. Shraddha Dalvi – Contribution in the Field of "Social Medicine & Community Health", Shri. Lalit Talekar – Asst. Commissioner, BMC, Mumbai, Shri. Sunil Joshi – Executive Director – ECGC LTD, Adv. Vinod Mahadik – Advocate High Court, Smt. Vibha Jadhav – Women Empowerment & Social Service, Master. Nishit Borude – Bal Paryavaran Yoddha, Smt. Rashmi Rajesh Kave – Community Organizer, BMC, Smt. Sharada Milind Aarondekar – Aakar Mumbai, Smt. Renuka Sonawne – Chairman – Soniya Mahila Bachat Gat.
Dr. KUILJEIT UPPAAL from Krea, Raj Israni, Founder of Filmi Jobs, Ms. Priya Aswani – Author "3 AM Thoughts", Suhaani Jadhav – Founder Nature Blosssom, Grihita Sachin Vichare – Youngest Trekker & Inspirational Kid, Shriguru Majid Paithankar representing – The Zariya International Organization, Annwesa Singh – Most Prominent Indian Classical Dancer, Ashok Chavan – Founder City Services, Dr. Arvind Pandit Kharat – President – Council of Paramedical Science of India, Paramedical Council of Maharashtra & Medinova Training Institute, Harshal Shinde – Most Promising Youth Icon 2023, Vishal Vilasrao Tambe of Shri. Gajanan Maharaj Shikshan Prasarak Mandal, Dr. Anil Santu Kale from Anand Medical Foundation, Pravin Prakash Jagtap – Founder & Director of Bhoomi Swaroop Construction, Jayesh Tukaram Patil from Aecom, Dr. Adv. CPA. Madhav Medhekar of Madhav Medhekar & Company.
Dr. Mustafa Yusufali Gom, Founder of Care Takers Exterior & Interior, Dr. Ashok B GUPTA from INDRA ENGLISH HIGH SCHOOL & JUNIOR COLLEGE, Sandip Anandrao Mali of Janseva Urban Co-Operative Credit Society Ltd, Dr. Sonam Sinha from Veena Dental Care, Sanjukta Arun Barik of La Aartemisia Studio and Gallery, Rajkumar Dharu from DG CORP, Devidas Shravan Naikare of Naipar Shop LLP, Gauri Dhandarphale from Vagrms Services LLP.
Satish Sadasivan from Evolve Global, Siddharth Jawale & Chandan Kaushik of JAKA SOLUTIONS & SERVICES, Karan Kumar Tiwari, Most Prominent Educator, Nishad Prasad Sutar & Vaishanavi Suhas Banaitkar of Grand Tour, KU. ELIJA R. BORKUTE of YEHOVA YIRE FOUNDATION, Shashank Jaiswal, Marketing Dude, Rupal Mohata, Youth Icon of the Year 2023.
Kishor Bidada of Kishor Agro Industries, Vijaya Chandak of Natures Alm, Astrologer Amar Sharma, Dr. Narendra Jayvant Shelar from Smaartus Education Pvt Ltd, Nitesh Kumar Yadav of Building Bricks India Pvt Ltd, Dr. Padmakar Nandekar from Universal Communications LLP, Bahauddin Ahmad & Sara Bilquis from MCMIT (Modern College of Management & Information Technology), Korba, Chhattisgarh, Vinay Manojbhai Soni – Wellness Consultant, Dr. Abhilasha S. Magar from Anna Saheb Vartak College Vasai West, Amar Bhalerao of Wealthboost Service, Dr. Bipin Sule, CEO of Vishwakarma Institutes & University Pune, and Dippy Solani of Grace Arts.
The awards were an acknowledgment of these individuals' dedication and their embodiment of Mahatma Gandhi's principles in today's world. Each recipient's story resonated with the spirit of service and positive change that the event sought to highlight. The Shri. Mahatma Gandhi Rashtriya Abhiman Puraskar ceremony of 2023 stood as a testament to the power of individual actions in shaping a better society, and its impact will undoubtedly resonate for years to come.
If you have any objection to this press release content, kindly contact pr.error.rectification@gmail.com to notify us. We will respond and rectify the situation in the next 24 hours.