Revolutionizing Electric Mobility: PlugUP EV DC Fast Charger
Read Time:
3 Minute, 23 Second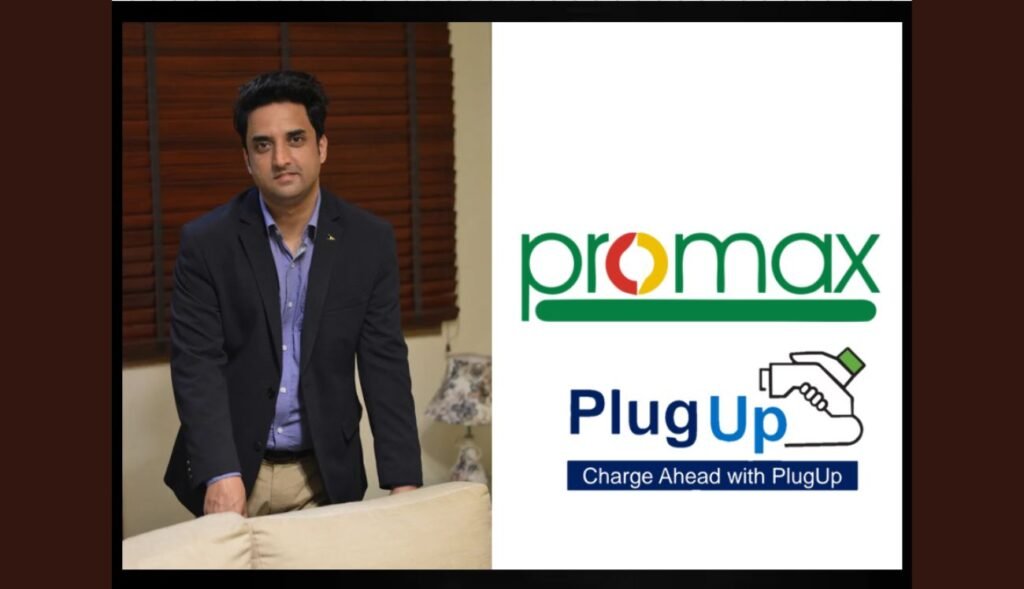 Vishal Bhardwaj, leading a visionary force in Energy Sector
New Delhi (India), August 31: In the ever-evolving landscape of electric mobility, PlugUP has emerged as a dynamic player, offering state-of-the-art EV DC fast chargers that are setting new benchmarks for efficiency, reliability, and sustainability. As a brand under Exirgy Innovations Pvt Ltd, a subsidiary of the esteemed Promax Power Limited, which is publicly traded and listed on the BSE Exchange, PlugUP has quickly gained recognition for its commitment to transforming the electric vehicle charging ecosystem.
Promax Power Limited: Pioneering a Green Future
Promax Power Limited, a visionary force in the energy sector, commenced its journey in 2004 with the aspiration to revolutionize the way power is generated, consumed, and harnessed. Over the years, the company successfully established itself as a pioneer in the renewable energy domain, introducing cutting-edge technologies and innovative solutions. By leveraging its technical prowess and unwavering commitment to sustainability, Promax played a pivotal role in shaping India's renewable energy landscape.
The Genesis of PlugUP: A Leap Forward in Electric Mobility
Around two years ago, PlugUP embarked on its journey with a mission to address a crucial aspect of the electric vehicle revolution – fast and efficient charging solutions. Understanding the pivotal role charging infrastructure plays in the widespread adoption of electric vehicles, PlugUP set out to design and manufacture DC fast chargers that catered to the evolving needs of the market.
Empowering Electric Mobility: Manufacturing EV Chargers in India
PlugUP's commitment to the "Make in India" initiative is exemplified by its local manufacturing of EV chargers. With a state-of-the-art production facility in Mohali, Chandigarh, PlugUP is contributing significantly to India's goal of becoming a global hub for electric vehicle manufacturing. The brand's manufacturing process integrates advanced technology, precision engineering, and quality assurance, ensuring that every PlugUP EV DC fast charger delivers exceptional performance and reliability.
A Dynamic EV Charger Market: Meeting the Demand
The electric vehicle charger market in India is experiencing rapid growth, fueled by the rising demand for electric vehicles and the government's aggressive push for cleaner and sustainable transportation. PlugUP has positioned itself as a key player in this burgeoning market by offering a diverse range of DC fast chargers tailored to various applications and charging requirements. From urban charging stations to highway corridors, PlugUP's solutions cater to the needs of both individual EV users and fleet operators.
Innovative Features and Unmatched Performance
PlugUP's EV DC fast chargers are not only distinguished by their manufacturing excellence but also by their innovative features. With an emphasis on user convenience, PlugUP chargers are designed to deliver rapid charging, minimizing vehicle downtime and enabling longer journeys. The brand's commitment to sustainability is reflected in its use of eco-friendly materials and energy-efficient technologies.
A Future Charged with Possibilities
As electric mobility continues to gather momentum, PlugUP's role in shaping the charging infrastructure landscape is becoming increasingly vital. Backed by the expertise and legacy of Promax Power Limited, PlugUP is poised to contribute significantly to India's electric vehicle vision. With its unwavering commitment to quality, innovation, and sustainability, PlugUP is not just a brand; it's a driving force propelling India towards a greener and more sustainable future.
In conclusion, PlugUP EV DC fast chargers represent the convergence of innovation, sustainability, and convenience in the electric vehicle charging domain. As a brand nurtured under the umbrella of Promax Power Limited, PlugUP is not only redefining the way electric vehicles are charged but also contributing to India's aspirations of becoming a global leader in electric mobility. With a focus on quality, technology, and customer satisfaction, PlugUP is indeed a beacon of progress in the realm of electric mobility.
If you have any objection to this press release content, kindly contact pr.error.rectification[at]gmail.com to notify us. We will respond and rectify the situation in the next 24 hours.