Importance of SOP Writing Services in Study Abroad Application and Visa Process
Read Time:
6 Minute, 9 Second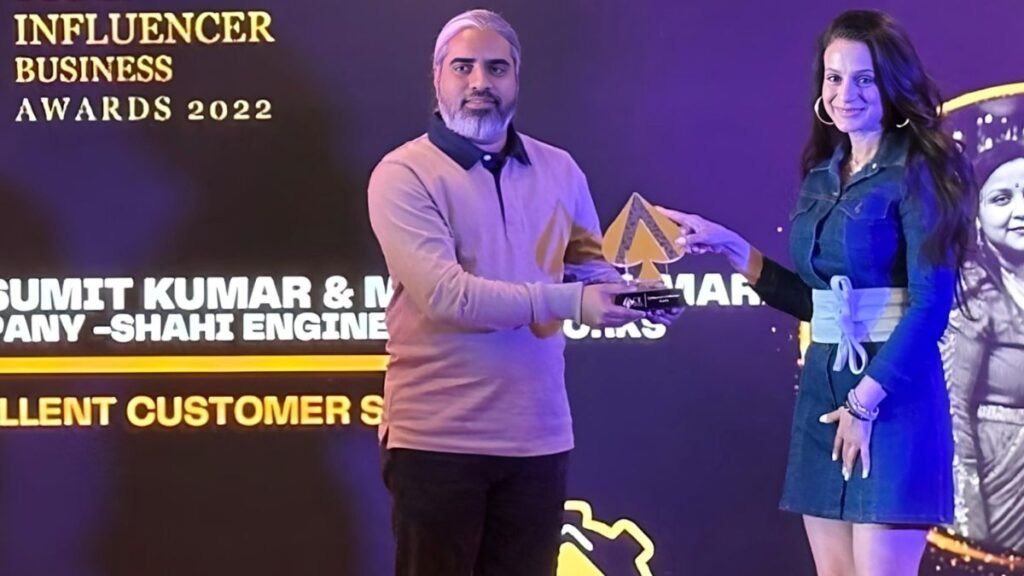 Suneet Kumar Singh – Founder of Contentholic, getting awarded by Ameesha Patel at Ace Influencer & Business Awards, Mumbai (2022)
New Delhi (India), September 16: Every year, Millions of students from India aspire to study abroad and work hard to align the whole process to make it happen smoothly. Pursuing higher studies from an international university is truly a life-changing experience and opens wide doors to a whole new world of opportunities. But the journey is not as easy as it looks and takes a lot to finally realise the dream. To embark on this study abroad journey, one must navigate through the complexities of the whole process and then plan it accordingly to avoid wasting time and money. Many students hire study abroad consultants to get the whole process done professionally and leave everything on their shoulders blindly which is a wrong practice. As an educated person, you must understand the whole process and discuss everything with your visa agent or consultant. Most of the candidates always lack the most important part of their application, ie. a statement of purpose.
Suneet Kumar Singh, the founder of India's first formal SOP Writing Agency – Contentholic, shares his valuable experience of the last 13 years in the higher education and the study abroad industry. According to his experience – Among all the components of the whole journey of higher education abroad, SOP Writing is the most important factor which is always overlooked by the agents and the candidates. Some of the aware candidates or agents hire professionals for sop writing services to get the best job done by experts, while some opt for writing their sop on their own.
Understanding what is a Statement of Purpose (SOP)
For those who have never heard of SOP before, let's start with the basics. Statement of Purpose which is abbreviated as SOP is a kind of written statement, application or story that enables you to present your profile and candidature for admission to top-tier universities or visa permits. SOP writing plays a vital role as a key component of the application where the candidate gets the opportunity to address directly to the admissions committee, unline transcripts and LORs. It's a chance to tell your story, showcase your aspirations, and reveal the person behind the grades and test scores. SOP is your voice in the application process, a narrative that allows you to express yourself and establish your candidature and intent for that particular course or university. It allows you to convey your personality, motivations, and the driving forces behind your desire to pursue higher education abroad. Admissions committees are not just interested in your academic achievements; they want to understand what makes you tick. In a sea of applicants with similar academic backgrounds, extracurricular activities, and test scores, a well-crafted statement of purpose can make you memorable. It's your opportunity to differentiate yourself and leave a lasting impression. If you are not sure of your writing skills then you can try consulting professionals by searching – SOP Writing Services near me on Google.
Crafting a Compelling Statement of Purpose (SOP)
Now, let's get into the fundamentals of writing a compelling SOP. Consider this as a monologue where you have to speak in front of the selection committee and they have to judge you on the basis of your speech along with the reviewing documents in accordance with your speech. The only difference is that you do not have to speak, instead, you have to present the same in a written statement. Before writing the statement of purpose, it is very important to do proper planning to make an outline structure with all the information you have. A well-organized SOP typically includes an introduction, academic background, relevant experiences, goals, and a conclusion. Each section should flow seamlessly into the next, creating a cohesive narrative. Balance is key when it comes to conveying your qualifications and you should always focus on your challenges and learnings from education and work experience. While it's important to highlight your achievements and avoid exaggeration of the same, you should stay humble and avoid self-praise. Always provide relevant examples to support the skills and merits you write in your SOP. Avoid using generic statements and always give reasons in support of your opinion. It is always better to keep it original and authentic to enable it to sound genuine. Lastly, don't underestimate the importance of proofreading and editing. Typos and grammatical errors can detract from the overall quality of your SOP. Take the time to review and refine your statement of purpose or admission essay before submitting it. If you're finding it challenging to craft your SOP, you might consider seeking assistance from SOP Writing Services.
Customize your SOP to Specific to the University & Program Requirements
"One size does not fit all" – the same is the case when it comes to SOPs for university applications in top-tier universities. Different study programs and different universities/colleges have different requirements and expectations from the candidates. Thus, a single statement of purpose will not help you to get through because a single draft would be too generic to fit all the programs and universities. Customization of the SOP for each program and university is essential as it will showcase your genuine interest and show that you've done your homework. You should do thorough research about your university and about the program offered by them and you can write about some specific modules which you are most interested in. You should also talk about the faculty, and the student community, and explain how can you contribute to their community. Addressing these answers in your statement of purpose can make it very impactful for your selection.
The Dos and Don'ts of SOP Writing
Please go through these guidelines with clear do's and don'ts to make sure you do not commit a blunder.
Dos:
Be honest, concise and straight to the point
Show your intent, passion and enthusiasm for the subject
Use specific examples to illustrate your points.
Give yourself ample time to prepare the draft
Take feedback from seniors, mentors or consultants
Highlight your unique qualities and experiences
Don'ts:
Don't plagiarize (don't copy content from other sources)
Do not exaggerate and avoid self-praise
Do not replicate your resume in SOP
Do not use too much technical jargon
Do not use a negative tone and avoid criticism
Do not procrastinate & start as early as possible
A well-written SOP is an investment which reaps results in the form of top admits and visa permits. As stated above, do not consider it just an additional document, it is a linchpin to your journey of dreams abroad. Crafting an effective SOP takes time and effort and thus you should plan it well to make a stellar statement of purpose.  If you'd like further guidance or assistance in crafting your SOP, you should consider hiring professional sop writers or an agency that offers SOP Writing Services.
If you have any objection to this press release content, kindly contact pr.error.rectification[at]gmail.com to notify us. We will respond and rectify the situation in the next 24 hours.