"From Despair to Success: The Incredible Journey of Chosar Primary School with Yuva Unstoppable"
Read Time:
3 Minute, 54 Second
"At Chosar Primary School, a brighter tomorrow begins today."
The School Principal who is transforming lives with Yuva Unstoppable
Ahmedabad (Gujarat) [India], October 13: In the heart of Ahmedabad, Gujarat, lies the Chosar Primary School—a place where dreams and education once seemed to be slipping away. But within the faded walls of this institution, one determined woman fought relentlessly to keep the light of knowledge burning. Meet Hasumati Patel, the school's principal since 2014, whose unwavering commitment to her students and the relentless support of Yuva Unstoppable has transformed this school into a beacon of hope for its surrounding community.
In 2017, the school received its first lifeline from Yuva Unstoppable—a modest shed. At that time, Chosar Primary School was on the brink of closure due to abysmal infrastructure and lack of basic amenities. The conditions were so dire that parents and the community preferred sending their children to a private school next door, which boasted more facilities. The school shared a common wall with this private institution, and the stark contrast in amenities was driving children away from Chosar Primary school. Ms Patel, with a deep commitment to her students and a vision for the school's revival, knew that something needed to change. The school started experiencing a sharp increase in dropouts as students opted for the comparatively better equipped private school next door.
Recognising the urgency of the situation, Yuva Unstoppable stepped in with a mission to breathe new life into Chosar Primary School. The initial support included sanitation facilities, a smart classroom, and a playground—a game-changer for a school that had been struggling to provide even the most basic amenities. These improvements were not provided by the government, making Yuva Unstoppable's intervention all the more critical.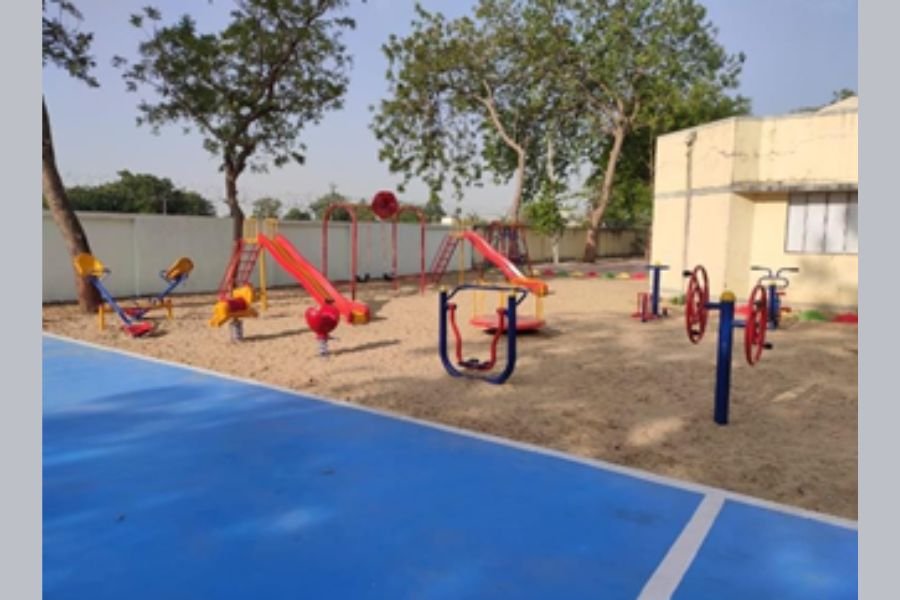 As Amitabh Shah, Founder Yuva Unstoppable recalls, "Conditions of the school when Yuva Unstoppable stepped in were extremely bad. There was no access to clean drinking water for children, and the facilities were poor and unsafe. We understood the gravity of the situation and expanded our support, step by step, to ensure the school's holistic development.
The impact of this transformation was nothing short of miraculous. The school environment underwent a complete makeover, with better sanitation and toilets, a playing area, and clean drinking water. Children, who had once drifted away in search of better facilities, began to return to Chosar Primary School. They found not only free education but also an improved and welcoming atmosphere that made learning enjoyable.
In the Principal's own words, "The facilities provided by Yuva Unstoppable, have made our school better than some private schools. We take responsibility for maintaining the infrastructure given to us and want to keep our school as cheerful and happy as possible".
One of the most significant transformations was seen in the smart classroom—a leap into the world of technology. The students were now exposed to interactive and modern teaching methods. This not only improved their understanding of subjects but also made learning a fun and engaging experience.
But it wasn't just about infrastructure. Behaviour change was a crucial aspect of the program. Hasumati and her team worked tirelessly to increase awareness among students about the importance of hygiene and its impact on health. This holistic approach to education aimed to not only improve the physical environment but also to empower the students with knowledge and values. Through this journey of revival, Hasumati's commitment to her students never wavered. She has been a teacher for 20 years, and while she initially wanted to pursue a career in medicine, fate led her to education. Today, she firmly believes that teaching is her calling, and the impact she has had on the lives of her students validates that belief.
Amitabh Shah, Founder Yuva Unstoppable says "Through the school transformation programme of Yuva Unstoppable, we provide all the infrastructure support needed to make our school cheerful and safe spaces. Children should be eager and want to engage more in school".
Through the relentless efforts of Hasumati and the unwavering support of Yuva Unstoppable, Chosar Primary School stands today as a testament to what can be achieved when individuals and organisations join forces to rekindle the flame of education. It's a story of revival, resilience, and the transformative power of hope.
Be a part of such transformative journeys with Amitabh Shah and Yuva Unstoppable.
For more information visit www.yuvaunstoppable.org
If you have any objection to this press release content, kindly contact pr.error.rectification@gmail.com to notify us. We will respond and rectify the situation in the next 24 hours.