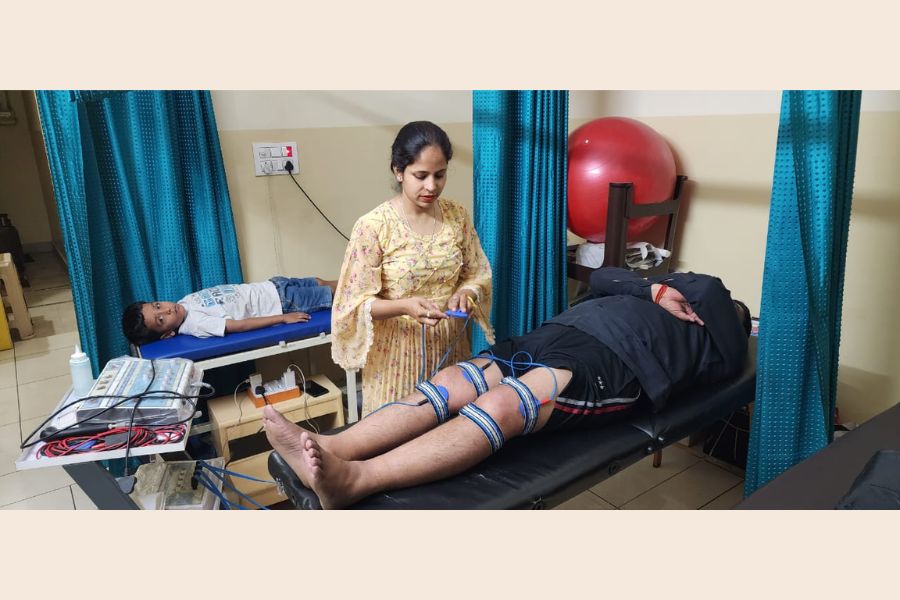 Angira Gurukul Multi Therapy Center: A Holistic Approach to Health and Wellness
Read Time:
3 Minute, 9 Second
New Delhi (India), June 23: In today's fast-paced world, where stress and lifestyle diseases are becoming increasingly prevalent, the need for holistic healthcare approaches is more important than ever. Angira Gurukul Multi Therapy Center, founded by Dr. Deepika, Managing Director and renowned expert in alternative medicine, offers a comprehensive range of therapies and treatments aimed at promoting health, fitness, and overall well-being. Combining ancient wisdom with a modern approach, Angira Gurukul Multi Therapy Center is dedicated to providing personalized, drugless, and effective solutions for individuals of all ages. With a strong focus on pain management and complete individual health, Angira Gurukul Multi Therapy Center has become a pioneer in the field of alternative medicine and holistic therapies.
At the heart of Angira Gurukul's philosophy lies the belief in healing patients completely, not merely alleviating symptoms. This dedication is evident in their impressive success stories, including over 5,000 cases of diabetes reversal, 700 thyroid reversal cases, and 3,000 instances of heart blockage reversal. Their expertise extends beyond these specific conditions, as they have successfully treated countless other diseases using holistic, drugless therapies.
At Angira Gurukul Multi Therapy Center, the team understands the intrinsic connection between the mind, body, and soul. By harnessing the power of various ancient healing modalities, such as Panchakarma, Yoga and Meditation, Sujok, and Chakra Healing, alongside cutting-edge techniques like Neuro Spine Therapy and Regression Therapy, they strive to address the root causes of illnesses rather than merely treating symptoms. This unique combination of ancient wisdom and modern practices ensures a holistic approach to healing, enabling patients to achieve long-lasting results.
Angira Gurukul Multi Therapy Center offers an extensive range of therapies to cater to the diverse needs and requirements of individuals seeking holistic treatments. These therapies include Bone Alignment Therapy, Psychological Counseling, Theta Healing, Body Alignment Therapy, Karuna Reiki, and much more. The highly skilled and experienced practitioners at Angira Gurukul specialize in natural diet and nutrition, enabling patients to make sustainable lifestyle changes that contribute to their overall well-being.
One of the core focuses of Angira Gurukul Multi Therapy Center is pain management. Through techniques such as Navel Alignment Therapy, Chiropractic, Magnet Therapy, and Cupping Therapy, the experts at Angira Gurukul aim to alleviate pain and restore balance to the body. Each patient receives personalized care, with a comprehensive healing plan tailored to their specific needs. This plan often includes a customized diet, exercise routines, physiotherapy, and acupressure, ensuring a holistic approach to recovery.
Angira Gurukul's commitment to excellence and her significant contributions to the field of alternative medicine has been acknowledged and celebrated through various awards and accolades. Dr. Deepika has been honored with the prestigious "Covid Warrior Award 2021" by District Administration, the "Guest Speaker Award on Naturopathy Day 2022" by the Ayush Department, the "Women's Day 2021 Award" by the United Trade Board, the "International Yoga Day Award 2022" by Panch Tatav Trust, and the "Spiritual Scientist Award" by PSS. Iconic book or records Achiever 2023
Angira Gurukul Multi Therapy Center stands as a beacon of hope and healing for individuals seeking a holistic approach to health, fitness, and wellness. With its extensive range of therapies, experienced practitioners, and personalized care, Angira Gurukul has helped thousands of patients reverse diabetes, thyroid disorders, and heart blockages. By integrating ancient wisdom with modern practices, Angira Gurukul empowers individuals to take control of their health, leading them towards a path of complete well-being and a healthy lifestyle.
If you have any objection to this press release content, kindly contact pr.error.rectification[at]gmail.com to notify us. We will respond and rectify the situation in the next 24 hours.