Uttarakhand folk Song 'Cream Powdera' Surpasses 50 Million YouTube Views, Garnering Acclaim for its Catchy Melody and Meaningful Lyrics"
Read Time:
3 Minute, 39 Second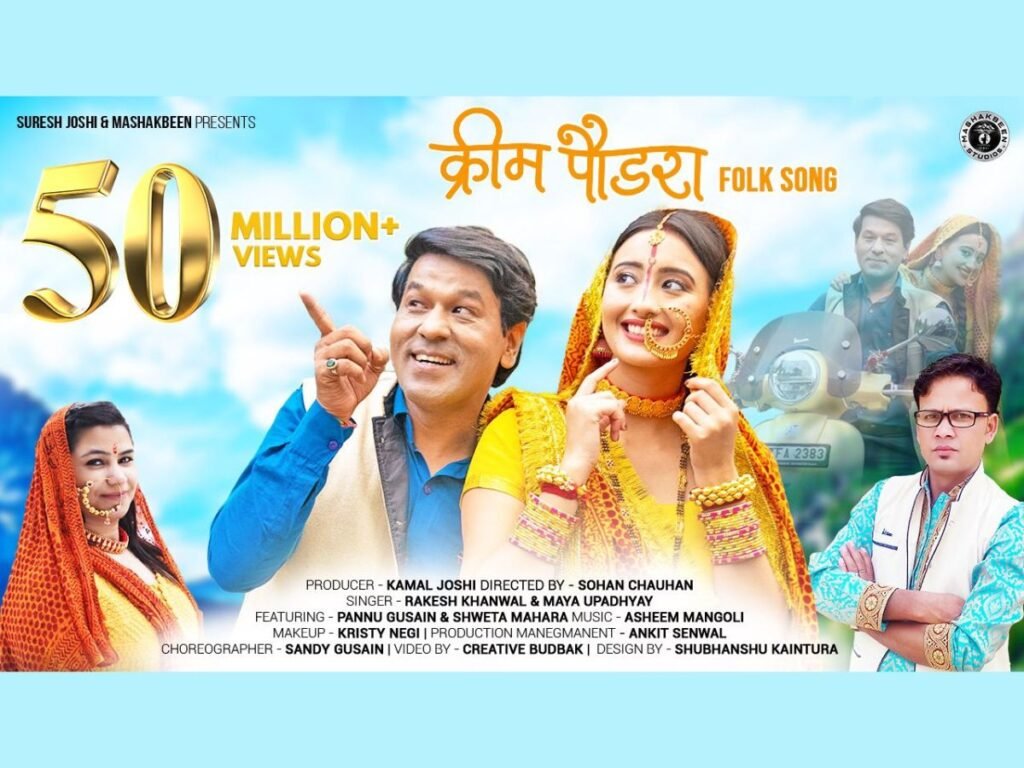 New Delhi (India), August 22: Cream Powdera' , a song by Mashakbeen Studios, a leading music production company from Uttarakhand has crossed 50 million views on YouTube. The song, which was released in 2022, has been praised for its catchy tune, beautiful lyrics, and powerful message.
This song features Shweta Mahara and Pannu Gusain, two of the most popular actors in the Kumaoni music industry. They have starred in a number of hit songs, including Cream Powdera.
Shweta Mahara is a talented actor and dancer. She is known for her powerful performances and her graceful moves. Pannu Gusain is a versatile actor who can play a variety of roles. He is known for his comedic timing and his ability to connect with audiences.
Kamal Joshi is the co-founder and producer at Mashakbeen Studios, He is known for his innovative approach to music production and his commitment to promoting the culture and heritage of Uttarakhand.
This song from Uttarakhand's Kumaon region has achieved a remarkable feat by amassing over 50 million views on YouTube in just twelve months since its release. This makes it the fastest Kumaoni song from Uttarakhand to reach this remarkable viewership count, a testament to the power of traditional folk music to transcend time and space. "Cream Powdera" joins the league of songs like 'Thal Ki Bazar' and 'Phwaan Bagha Re' that have also achieved more than 50 million views. These songs have captured the essence of Uttarakhand's cultural heritage and resonated with audiences of diverse backgrounds.
The song, sung by Rakesh Khanwal and Maya Upadhyay, celebrates the beauty of the state's natural landscape and the strength of its women. The song is sung from the perspective of a woman who is proud of her culture and heritage.
The song's success is a welcome sign for the Kumaoni folk music scene. It shows that there is still a strong appetite for traditional folk music among audiences all over the world. It also shows that traditional folk music can be just as popular as modern music.
The success of Cream Powder is a testament to the hard work and talent of the artists involved in its creation. It is also a testament to the power of traditional folk music to connect with people on a deep level. The song's message of pride in one's culture is sure to resonate with audiences for years to come.
The song has been a huge hit with audiences all over India. It has been featured on multiple music charts and has been praised by critics for its authenticity and originality. The song's success is a testament to the talent of Mashakbeen Studios and its founder, Suresh Joshi.
In addition to "Cream Powdera', Mashakbeen Studios has also produced a number of other successful songs, including 'Chaha ka Hotel', 'Madhu', 'Dhai Haathe Dhameli' and 'Masterji'. The company is known for its commitment to creating music that is both entertaining and educational.
The success of 'Cream Powdera' is a major milestone for Mashakbeen Studios. It is a testament to the company's talent and dedication. The song's success is also a sign of the growing popularity of folk music in India and Globally.
In addition to creating music, Mashakbeen Studios is also planning to produce Movies and a series of short films that explore the culture and heritage of Uttarakhand.
About Suresh Joshi
In 2019, Suresh Joshi wanted to create a company that would promote the culture and heritage of Uttarakhand through music. A visionary entrepreneur passionate about promoting Uttarakhand's culture and heritage, Joshi has a background in filmmaking, music production, marketing, and technology.He is committed to using his music to inspire others and to make a positive impact on the world.
Suresh Joshi is an asset to the Uttarakhand music industry. He is already a successful entrepreneur and is poised to make a major impact on the world with his music.
If you have any objection to this press release content, kindly contact pr.error.rectification@gmail.com to notify us. We will respond and rectify the situation in the next 24 hours.