Godavari Ghee: A Time-Honored Tradition of Excellence
Read Time:
3 Minute, 30 Second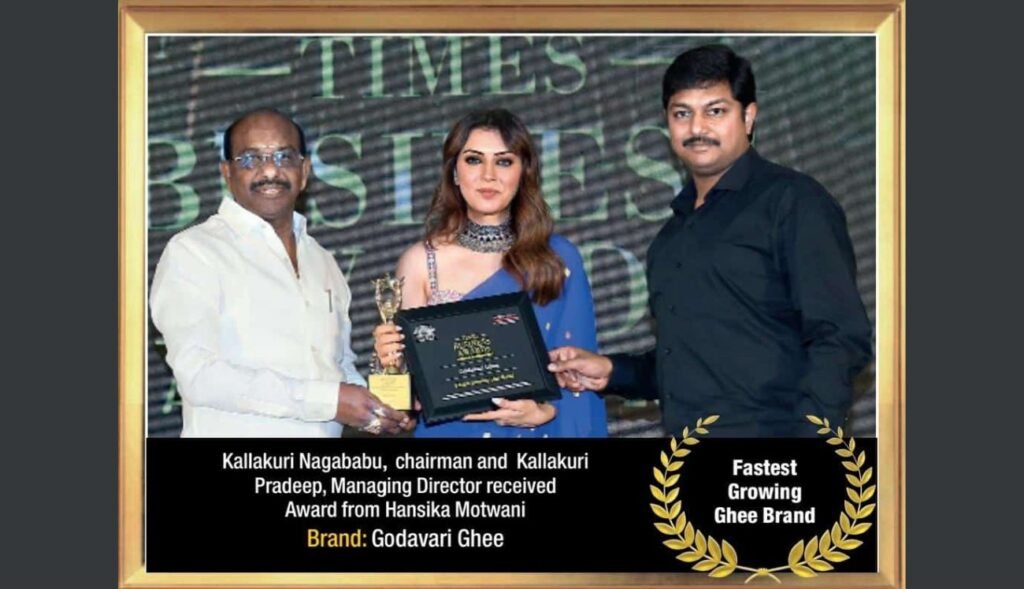 New Delhi (India), August 28: Since its inception in 1951, the KNB Group has been an emblem of quality and tradition, offering premium products deeply rooted in the heart of India's culinary heritage. Founded by Shri Kallakuri Bhairavaswami, the journey began with a simple yet ambitious goal: to provide the finest ghee to households across the southern part of Orissa. What started as a modest endeavor of collecting milk cream door-to-door and crafting ghee over wood-fired kettles has blossomed into a brand that stands tall with pride and purpose.
Legacy and Tradition: The Essence of Godavari Ghee
Godavari Ghee, crafted through four generations since its inception, holds the essence of time-honored practices. The ghee-making process carried out in traditional large kettles over wood-based furnaces, retains the rich aroma and homely taste that have become synonymous with the brand. This commitment to tradition not only honors the heritage of the region but also brings a distinct quality to the product that modern methods fail to replicate.
To ensure the highest quality, Godavari Ghee is double-filtered, carefully filled, and packed using sophisticated machinery. This approach not only maintains the ghee's purity but also extends its shelf life, allowing households to savor its richness over an extended period. Unlike mass-produced alternatives, Godavari Ghee remains untouched by human hands throughout the process, upholding its purity from creation to consumption.
Awards and Recognition: Testimony to Excellence
Godavari Ghee's excellence hasn't gone unnoticed. The brand has been acknowledged on multiple platforms for its rapid growth and unwavering commitment to quality. The Times of India Business Awards honored Godavari Ghee as the fastest-growing ghee brand in 2022, a testament to its rising prominence. The 9th Business Leaders Summit & Awards in Mumbai also recognized the brand as the fastest-growing ghee brand, further solidifying its position as a leader in the market.
Beyond Ghee: Diversified Offerings
While Godavari Ghee remains the cornerstone of KNB Group's offerings, the brand has ventured into other realms as well. The KNB Group procures honey directly from beekeeping farmers across Nashik, meticulously testing each batch for purity in advanced laboratories. This commitment to quality extends to their honey line, which is available in various sizes to cater to different needs and preferences.
Additionally, the KNB Group offers stainless steel scrubbers that are rust-proof, stain-resistant, and easy to use. Recognizing the importance of cleaning products in our daily lives, the brand has expanded its offerings to address a variety of needs while maintaining the same level of quality and dedication.
Vision and Mission: Anchored in Values
The KNB Group's vision centers on creating a safe, productive, and fulfilling work environment for employees, delivering legendary service to customers, enhancing value for distributors, and fostering mutually beneficial outcomes for super stockists. Their commitment to stability and strategic growth has earned them recognition as industry leaders who prioritize the needs of those they serve.
Aligned with this vision, the KNB Group's mission revolves around providing superior products and services that fulfill customer needs. Upholding high ethical standards, teamwork, and professionalism, the brand's caring attitude extends to both employees and customers, creating a harmonious ecosystem built on trust and respect.
Connecting with Godavari Ghee
To connect with Godavari Ghee and the KNB Group, interested individuals can visit their website at www.knbgroup.in or www.godavarighee.com. For those in Australia, the brand is accessible through https://spicepack.com.au. Additionally, they can be reached via phone at +91-9666755555 or through email at info@knbgroup.in.
Godavari Ghee is more than a product; it's a journey that encapsulates the spirit of tradition, commitment to excellence, and a vision for the future. The KNB Group's legacy is a testament to how a simple aspiration can evolve into a legacy that enriches lives and palates across generations.
If you have any objection to this press release content, kindly contact pr.error.rectification[at]gmail.com to notify us. We will respond and rectify the situation in the next 24 hours