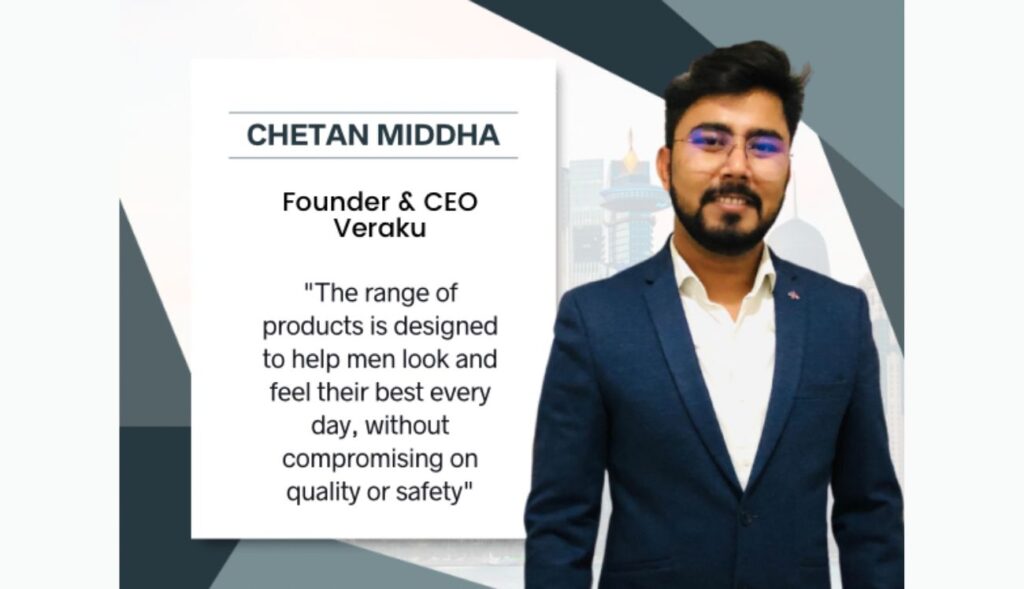 Veraku Lifestyle: From Intimate Hygiene to Face & Lip Care – A Grooming Triumph!
Read Time:
3 Minute, 41 Second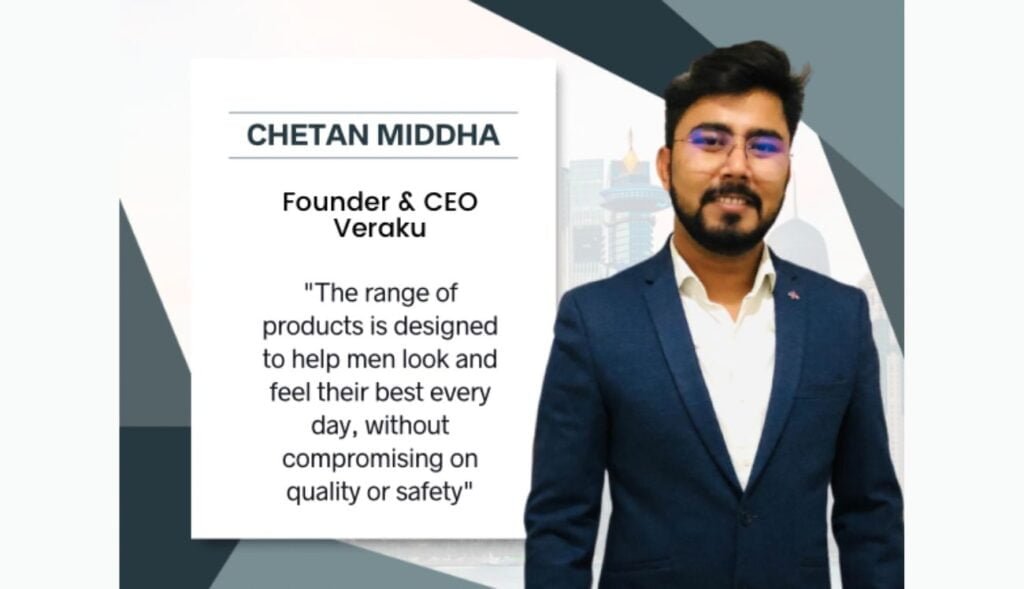 Bringing forth the perfect combination of quality and safety, visionary leader, Chetan Middha
New Delhi (India), August 31: Leading men's grooming and skincare brand Veraku Lifestyle Private Limited has recently introduced its face-care and lip-care range after getting a commendable response on their intimate hygiene range which launched with its first batch of products back in September 2021. Incorporated in September 2020, the brand which is based out of Jaipur, Rajasthan, is gearing up to expand their range by the end of September 2023, adding more products to the range and ensuring the needs of every Indian man with respect to hygiene and grooming is attended to.
Building on its previous successes and keeping in mind the day-to-day needs of the millennial generation and the upcoming generation Z, the brand is set to reach new benchmarks in the Men's Grooming world by staying at par with the requirements and demands of the fast-paced lifestyle of today. At a time when men's grooming is taken into equal consideration as the female counterpart, Veraku Lifestyle Private Limited with its new face-care and lip-care range is focusing on providing quality lifestyle products without compromising on the affordability factor.
The men's grooming industry holds immense potential for growth and expansion. The substantial presence of men, accounting for 52 percent of the population, combined with the personal care sector's remarkable 11 percent revenue growth points towards a commendable growth for Veraku Lifestyle Private Limited. Veraku Lifestyle Private Limited has served more than 5,000 orders in the past financial year and is looking forward to a whooping 50,000 more happy customers on its list this financial year.
When asked about the driving force towards building the brand, Mr. Chetan Middha, founder and CEO of Veraku Lifestyle Private Limited mentions, "Beyond merely promoting products, Veraku lifestyle thrives towards helping men build a holistic lifestyle where their manliness is not challenged. The point has always been to fill the gap in the market and realise what men of today really need." Vegan and cruelty-free, Veraku Lifestyle Private Limited is completely made in India, prioritising customer engagement, research and innovation promoting not only premium products but also a lifestyle of confidence and self-care.
Veraku Lifestyle's products range from face scrubs, masks and creams enriched with coffee, charcoal, cranberry and walnut beads that gently exfoliate the face and leave a long-lasting glow. Their precisely curated kits are specifically designed to adhere to the specific needs of the individual knowing the target areas. The lip balm from their range is infused with Licorice and Hemp-seed oil which is known to lock moisture for up to 12 hours straight. Their intimate hygiene cream comes in a set of two as well, which includes an anti-chaffing cream infused with 100% natural Manihot esculenta (tapioca) starch that ensures at least 8 hours of chafe relief and helps maintain the pH balance of the skin.
When asked about their new range and future plans of expansion, Mr. Chetan Middha, founder and CEO mentions, "We are overwhelmed by the immense response received from our customers on the new range. This only proves that more and more people are looking forward to bettering their lifestyles and taking a 360-degree approach to personal grooming and hygiene. We plan to launch more products in the range soon and we are in the testing phase currently. Naturally sourced products take longer times to test and procure raw materials. The one thing we don't ever want to compromise on is quality. So the new products would take some time but we promise to not keep our customers waiting for long."
Over the years, men's grooming industry has undergone a significant transformation. Evolving from a niche and limited category to a thriving ecosystem characterised by innovation and expansion, the once over-shadowed industry is expanding in all its glory. Veraku Lifestyle Private Limited is fostering a community-centric approach, thus setting itself apart and sealing a tone of continuous evolution.
For more information please visit https://veraku.com/ OR https://veraku.com/shop/
If you have any objection to this press release content, kindly contact pr.error.rectification[at]gmail.com to notify us. We will respond and rectify the situation in the next 24 hours.