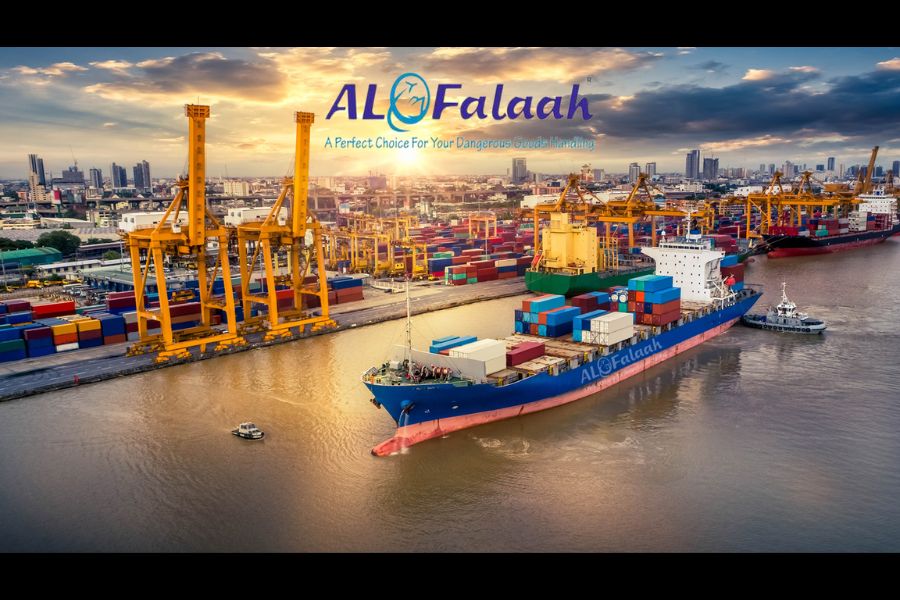 AL Falaah DG Packing & Forwarding LLP: The Importance of IIP Certification in Ensuring Safe Handling of Dangerous Goods
Read Time:
4 Minute, 1 Second
New Delhi (India), September 20: In the world of hazardous materials and dangerous goods transportation, ensuring the safety of both people and the environment is of paramount importance. This is where certifications like the UN Certificate from IIP (Indian Institute of Packaging) come into play. AL Falaah DG Packing & Forwarding LLP, an ISO 9001:2015 certified company, recognizes the significance of such certifications in maintaining the highest standards of packaging and forwarding hazardous materials.
The IIP certificate holds immense value in the logistics industry, particularly when dealing with dangerous goods. It signifies that a company is well-versed in the intricate art of packaging and transporting hazardous materials in a manner that mitigates risks and adheres to international regulations. Let's delve into why the IIP certificate is crucial and how AL Falaah DG Packing & Forwarding LLP's commitment to this certification underscores their dedication to safety and quality. Ensure compliance with UN regulations by utilizing approved packaging options such as boxes, drums, tanks, bags, and more.
1. Expertise in Hazardous Materials Handling:
The IIP certificate serves as a testament to a company's proficiency in handling a wide array of dangerous goods. In the intricate realm of UN Approved Box, UN Approved Drum, UN Approved Carbouys and Jerricans, UN Approved Bag, Jumbo/FIBC Bag & IBC Tank (packages) packaging services, AL Falaah DG Packing & Forwarding LLP emerges as the unrivalled expert, wielding a wealth of experience across diverse industries, from manufacturing and pharmaceuticals to oilfields and beyond. Their profound understanding of a multitude of hazardous materials and their associated risks sets them apart as true champions in the field.
2. Ensuring Compliance:
Hazardous goods transportation is regulated by a complex web of international standards, including those set by IATA/ICAO DGR (Dangerous Goods Regulations) and IMDG Code Manuals. These regulations ensure that dangerous goods are packaged, labelled, and transported in ways that minimize potential dangers. AL Falaah DG Packing & Forwarding LLP's commitment to excellence shines through in their meticulous checking system. With UN Approved boxes, IBC tanks and drums, they ensure each shipment not only meets but exceeds the stringent requirements of these regulations.
3. Enhancing Safety:
At AL Falaah DG Packing & Forwarding LLP, safety is not just a word; it's a commitment etched in every facet of our logistics process. Our IIP certificate stands as a resounding testament to our unwavering dedication. From meticulous consultation to precision packaging and forwarding, we prioritize safety at every step, safeguarding your assets with the utmost care, utilizing UN-approved boxes & drums and other IIP Certified Packing. This approach not only safeguards personnel handling the materials but also prevents harm to the environment and surrounding communities.
4. Trust and Reliability:
Being an IIP-certified company establishes trust and credibility in the eyes of clients. Industries dealing with hazardous materials, such as chemicals, radioactive sources, and batteries, require partners they can rely on for secure and compliant transportation. In the realm of handling dangerous goods, AL Falaah DG Packing & Forwarding LLP's coveted IIP certification isn't just a status; it's an emblem of trust. Our certification serves as the ultimate assurance, positioning us as the go-to authority for the safe and reliable management of hazardous materials using UN-approved packages. These achievements make them best UN Approved Box Suppliers and renowned supplier of UN Approved drums, bags and IBC Tanks.
5. Quality Assurance:
The IIP certificate goes hand in hand with quality assurance. AL Falaah DG Packing & Forwarding LLP's dedication to providing outstanding services with an optimum level of quality aligns with the principles of the IIP certification. This unwavering commitment guarantees the safe and pristine transportation of goods within UN-approved boxes/packages, ensuring they arrive at their destination promptly and in impeccable condition.
In conclusion, the IIP certificate holds immense significance in the realm of hazardous materials packaging and transportation. Companies like AL Falaah DG Packing & Forwarding LLP, with their ISO 9001:2015 certification and emphasis on UN & IIP standards, play a pivotal role in upholding safety, compliance, and quality. Their services not only facilitate industries across Maharashtra, Telangana, Gujarat, Tamil Nadu, Delhi, Kerala, and Andhra Pradesh but also exemplify a dedication to excellence in the critical field of dangerous goods logistics.
GET IN TOUCH:-
B-2, Mithila Apartments, Near Janakalyan Bank,
J. B. Nagar, Andheri (East), Mumbai-400059,
Maharashtra, INDIA.
Tel.: +91 22 4972 9526 / +91 22 46063906
H.P.: +91 9324476106
Mob.: +91 9930209920 / +91 9870552381
https://www.alfalaahdg.com/about.html
If you have any objection to this press release content, kindly contact pr.error.rectification[at]gmail.com to notify us. We will respond and rectify the situation in the next 24 hours.